About Us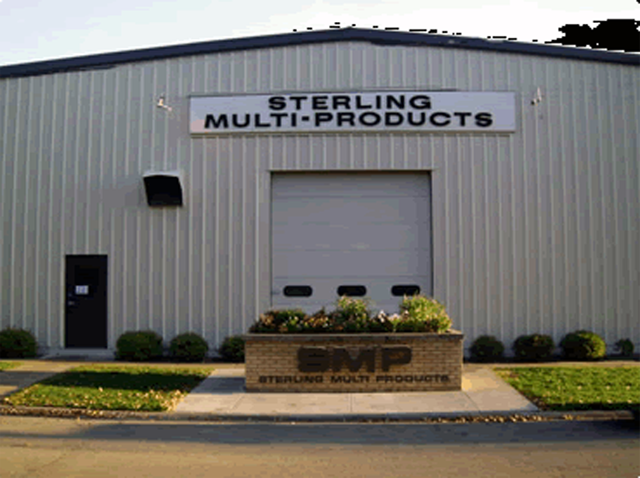 Sterling Multi Products, established in 1946, employs approximately 65 people. We manufacture quality metal stampings, precision components, fabricated products and machined parts. Some of our customers include John Deere, Taylor Company, TE Connectivity, Ingersoll-Rand, Gallagher Corporation, Springfield Armory, Prince Castle, Auto Meter Products and Rock River Arms Inc. We have provided over 15 years of quality service to multiple locations at John Deere and over 30 years of quality service to Taylor Company, TE Connectivity, Ingersoll-Rand and Prince Castle along with many others.
With the expansion of the Whiteside County Enterprise Zone, Sterling Multi Products announced in June, 2008 that it would be investing $850,000.00 for the construction of their new warehouse and raw material storage facility at its plant location in Prophetstown, IL. Since that time they have also purchased several new pieces of equipment such as two new Mazak Machining Centers with large bed sizes, one new 10' Shear capable of 1/4" thick mild steel and we have a new CNC Fryer SL-10 Turning Center with live tooling installed January 2012. We have also installed several more stamping presses.
Sterling Multi Products own product line includes Multi Mixers and Single Spinner Head Mixers. Our Multi Mixers are the quality mixers to which all other companies aspire to! We are honored that Taylor Company has incorporated our top quality Spinner Heads to their ice cream making machines for blending a wide variety of ice cream treats.
At Sterling Multi Products Inc., we take great pride in putting our customer's needs as our number one priority. Quality, on-time delivery and competitive pricing are what we offer to all of our customers. As your single source for a completed assembly, we can utilize "cell" production and minimize costs. We also outsource plating, heat treating and painting in order to eliminate material handling for our customers. We'll support your JIT and KANBAN programs by effectively managing your inventories. Many customers have, for a long time, considered Sterling Multi Products their single source for most of their metal stampings, precision components, fabrications and machined parts. Allow us the opportunity to quote your next project. We have the equipment, skilled labor, dedicated management and a strong quality control team to insure that you receive the quality parts you ordered, on time and for the competitive price you expected!